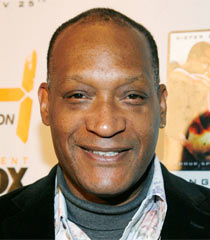 Tony Todd (born December 4, 1954) is an American actor and producer, known for his height (6'5", 1.96 m) and deep voice. He has appeared in more than 100 screen and television films, and has played opposite many major stars in Hollywood. His movie credits include: Platoon (1986), Night of the Living Dead (1990), Candyman[2] (1992), The Crow (1994), The Rock (1996), Wishmaster (1997) and the Final Destination series (2000-2006), and Minotaur (2006).[3] Todd was the voice of The Fallen in Transformers: Revenge of the Fallen. Todd will also be in the upcoming Rel Dowdell film, "Changing the Game," to be shot in Philadelphia in Spring 2010[4] and a horror film about Edgar Allan Poe called "Poe" in January. [5]
Transformers film series
Edit
Section heading
Edit
Write the second section of your article here.
Ad blocker interference detected!
Wikia is a free-to-use site that makes money from advertising. We have a modified experience for viewers using ad blockers

Wikia is not accessible if you've made further modifications. Remove the custom ad blocker rule(s) and the page will load as expected.